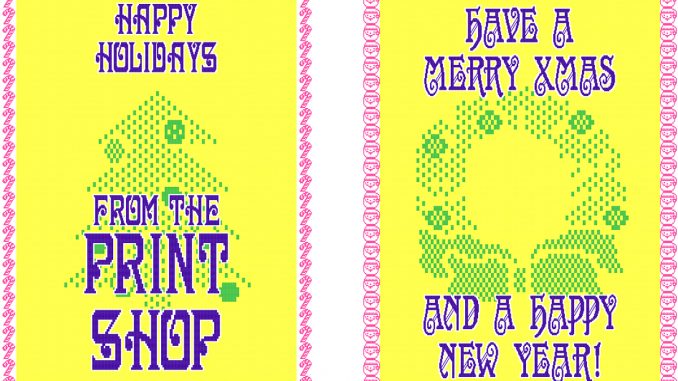 Make your own Christmas and holiday cards using the original Apple II version of The Print Shop with no emulators or downloads required at theprintshop.club
Created by David Balsam and Martin Kahn, The Print Shop was a beloved program used by millions of children in the 1980s. Its straightforward interface allowed for simple creation of a large variety of holiday cards, posters and banners.
Relive that magic by creating your own cards and sending them to your friends and family this holiday season! Select the Xmas expansion disk from the drop-down menu beneath the emulation window, then when prompted for borders or artwork, choose 'from other disk', then press enter to bring up the list of artwork. Select as desired.
Don't forget the dot-matrix printer emulation can print in color! So choose colors for various elements when prompted.
Finally, after printing completes, wait a few moments for your browser to automatically download the finished PDF file. Ta da!
Happy Holidays!
Visit theprintshop.club