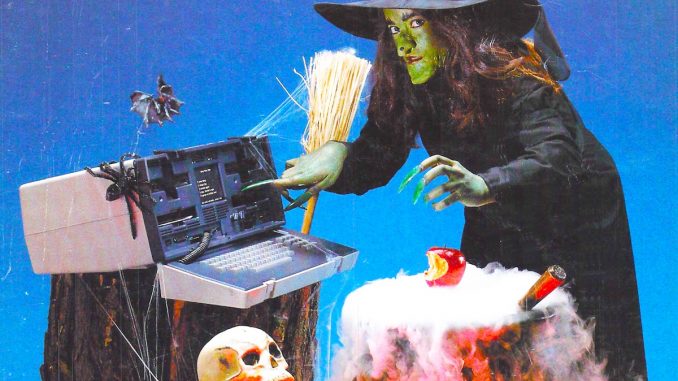 by Melody Ayres-Griffiths

Trick or treaters had been coming and going all night, but their flow had slowed to a trickle after the skies over Schenectady, New York had opened up, drenching anyone who dared to venture out on All Hallows' Eve, and providing an impressive display of lightning and thunder.
When there was a knock at the door, young Jamie Silicon expected to encounter a soggy ghost or goblin on the other side, not a soaking wet detective with a grim look on his face.
"Peter has escaped, hasn't he?" Jamie wasn't one to engage in pleasantries when the unpleasantness of the visit was obvious. Peter ‑ his mother's stalker, the reason for her faked death and absence from her children's lives for OVER A YEAR – was a little too wily to remain in prison for long, and if Jamie was being honest, the only real surprise here was that it had taken ten months for him to figure out how to sneak away.
Ten months of peace and quiet for the Silicons, mind you, and Schenectady – the Sliced Salami Society, the Silicon children's sleuthing side-project, hadn't had a case since they had solved their mother's disappearance and captured Peter. Sarah Silicon came to the door, along with Pippin, their younger brother. "Peter's escaped", Jamie told them.
"Probably not coincidentally," the policeman said, shaking the rain off  his hat, "a computer scientist and a professor at the university was killed there earlier this evening, and his portable computer stolen. Apparently the computer belongs to some kind of defense contractor, and they won't tell us anything about him, or the computer, or anything. But they sounded really worried and that has me spooked, since they're a defense contractor, it's Hallowe'en and Peter might be the killer, – and he's both intelligent and homocidal."
Jamie nodded. "He did say at his trial he was going to blow up the entire town."
"That too. I was hoping that I might as your father some questions. Is he around?" Unfortunately, the elder Silicons were currently in transit, returning from a trip to Australia, where they had been negotiating with an electronics retailer to carry their new Silicon brand of PC-compatible computers. They wouldn't return until at least late the next day. "Well, you kids are smart too, maybe you'd be willing to take a look through the professor's belongings up at the university? If you could find out anything, that would be more than what I currently have."
They agreed and, bundling Pippin up against the cold, the Sliced Salami Society packed into the back of the police car for the trip to the university, their eyes fixed on the darkness, constantly on the hunt for Peter, the man who had declared himself their mortal enemy.
At the university, it quickly became apparent that the professor's specialty was encryption.
Professor Sanders had been working on new and novel ways to hide data on a computer in such a way that it could still be decoded by a software application without that application itself revealing the method of encryption – a neat trick, if it could be done. Based on his notes, his method appeared to use a combination of self-modifying software and specialised hardware – in particular, memory chips that had been specially engineered to behave in incredibly idiosyncratic ways. He even proposed modifying the CPU in the computer to have a few additional, hidden instructions, which would make any attempt to disassemble the encryption software pointless.
His main point was that, since computers were becoming increasingly portable, there was no need to solve the problem of keeping secrets using only software. A hardware solution would also be immune to brute-force attacks, a failing of password-based encryption. No, the computer itself  would know how to decrypt the data – but it would only do it if the user jumped through a series of hoops, those hoops obfuscated and presented from hidden areas of memory, using secret CPU instructions and even erasing themselves if the user failed at their gymnastics too many times.
This way, there was no need to rely on the user to keep the password secret – the technology could be relied upon instead, its mysteries known only to an anonymous inventor, such as the professor.
As a proof-of-concept, Professor Sanders had been tasked with building a hack-proof computer , a modified Osborne 1 – for communicating with an orbital weapons platform – Reagan's "Star Wars". Its software would only allow communications to happen at certain times, under certain conditions, and couldn't be reverse-engineered to discover what those times and conditions were. With layer upon layer of  riddles and red herrings, no unauthorised person would ever be able to use the computer for nefarious purposes.
However, this was not the computer that had been stolen. That was the 'good news' Sarah relayed to the detective via telephone once that had been surmised. However, the 'bad news' was that the computer that had been stolen was the prototype – and that prototype had many of its successor's secrets laid out plain to see. But that was only a problem if Peter also had the second computer in his possession – but that was locked up safe and sound.
Wasn't it? There was an anxious silence at the other end of the line, broken by an admission that the second  computer had indeed been stolen from the defense contractor's facilities mere moments earlier – this was the detectives 'bad news'. But there was also a bit of 'good news': Peter had left the prototype on the side of the road, probably having no further need of it, its secrets revealed to him, and the police had recovered it – they were in no hurry to turn it over to the less-than-forthcoming defense company, and were happy to let the Silicons take a look at it.
And so, they returned to their home, arriving during the witching hour, with sleep a luxury afforded to only Pippin, his older siblings tasked with extracting what knowledge they could of the prototype's inner workings, in the hopes that a clue might be uncovered as to just what Peter may be intending to do, and when and where he may be intending to do it.
There were no floppy disks in the drives of the Osborne, but Sarah had surmised that this was not an issue – whatever software the computer had for communications wouldn't have been placed on a disk – that would have been too insecure. Instead, Sarah was convinced it was lurking inside the computer's read-only memory (ROM) somewhere, to be revealed only by executing a program at a particular memory address, that bank of memory possibly hidden, and needing to be revealed by first triggering a 'soft-switch' of some kind.
But after Jamie had dismantled the computer and extracted its ROM chip, a comparison with the ROM of the Silicon's own Osborne revealed it was exactly the same – no secret code was hidden here. With nothing obvious apparent from a cursory visual inspection, the ROM chip was reinserted and the computer powered on. Sarah inserted her CP/M utility diskette and it booted, to a prompt:
A>
Sarah typed DIR, to obtain a list of the disk's contents, and searched it for a memory editor she was certain was on it.
A: CAT

      

COM : CONFIGIO BAS : DDT

      

COM : BOOT 

    

COM
A: MFT

      

COM : PATCH

    

COM : CPM60

    

COM : PIP

      

COM
A: STAT 

    

COM : ASM

      

COM : AUTORUN

  

COM : LOAD 

    

COM
A: COPY 

    

COM : APDOS

    

COM : SUBMIT 

  

COM : XSUB 

    

COM
A: DUMP 

    

ASM : DUMP 

    

COM : DOWNLOAD COM : MBASIC 

  

COM
A: ADVENT 

  

BAS : GBASIC 

  

COM : ED 

      

COM : MEDIT

    

COM
"Hold on a minute," said Jamie, "did that disk always have ADVENT on it?" Sarah wrinkled her nose in thought, then removed the disk and placed it in the Silicon Osborne. Booting it, the file was absent.
"Very clever, Professor," Sarah murmered in admiration. She ran ADVENT.
Somehow the professor had managed to 'hook' into the normal operations of the Osborne's CP/M operating system to insert Colossal Cave Adventure, the first text adventure game. Sarah ran a simple test, reading and writing to the computer's memory, and found that half of its memory couldn't be written to! Where did all the memory go? The professor must have exchanged some of the computer's RAM chips with WORM – Write Once Read Many – chips. But when she tried to read them they just came back as zeroes – empty. There must be one or more additional softswitches that needed to be accessed in order to make the memory readable… but which? It seemed hopeless. "Curse you, Professor Sanders", she swore quietly to herself.
"Why don't you just let me play the game?" Jamie pleaded, "I'm good at games!"
Sarah threw up her hands. She was stumped, for the moment, so why not let him try? She nodded and Jamie went to it. "I've played this game before, let's see if there's anything different."
The game seemed largely the same, but after a few minutes of play, it declared:
HIDDEN HIGH
"Okay, so that's weird." Sarah came over to look.
"Maybe it's a clue. Keep playing." Jamie continued.
DOWN BELOW
and then:
I MAKE YOUR TOWNS AND CITIES GLOW!
WHAT AM I?
"Try 'STAR WARS'", Sarah told him.
>STAR WARS
I KNOW THAT GAME. WOULD YOU LIKE TO PLAY IT?
>YES
FIRST, TELL ME WHO MY FATHER IS, LUKE!
>SANDERS
YOU'RE NOT SUPPOSED TO KNOW THAT!
The game froze. "This must be one of his traps," said Sarah. "We're not supposed to know who he is. Play the game again, and when that question repeats type REAGAN."
>REAGAN
THAT'S HIM! WHO YA GONNA CALL?
Jamie took a punt.
>DADDY
DIALING…
ATDP2026139535
"202 is Washington DC," Sarah remarked. "Should we plug it into the telephone line? This all seems pretty insane so far, how much worse can it get?"
"Maybe that's the point, though," Jamie mused. "The only way to get anywhere is to play the game, and that takes time. Time to think about what you're doing."
"I wonder, did Peter even get this far?"
"Can we take the chance?"
They plugged the computer's modem into the phone line, and waited for it to dial. After a few moments,
WE'RE IN.
STILL WANT TO PLAY STAR WARS?
>YES
OKAY… SO YOU'RE DARTH VADER, AND YOU'RE COMMANDING THE DEATH STAR. YOU WANT TO
DESTROY THE REBELS. WHERE DO YOU POINT THE DEATH STAR?
"It's asking for co-ordinates," Peter said, cocking his revolver. Startled, Jamie and Sarah turned around to find Peter in their house, pointing a gun at them. "I knew you'd figure it out. All I had to do was leave the prototype somewhere for the cops to find, and I was pretty sure they would turn to you for help. Especially if I reported the other one missing – that would make it all pretty urgent, and with your parents out of town it would be left to you two to solve the puzzle before I did. Only I didn't need to solve it, just watch and wait."
"So what, you're going to drop a nuke on Schenectady?" Jamie laughed. "Not even you're that crazy."
"Maybe I am! All I ever wanted was happiness, and you took that away from me! There's no point in going on – but if I'm going to Hell, I'm taking you with me!" Peter punched the co-ordinates for Schenectady into the computer.
PROCESSING CO-ORDINATES…
YOU CAN'T NUKE YOURSELF, STUPID!
FRUIT-LOOP DETECTED…
SENDING IN THE NATIONAL GUARD.
Peter wasn't waiting for them to show up. He briefly contemplated shooting the Silicons before deciding the National Guard might take care of that for him.
"I may not be able to nuke Schenectady, but I'm damn well going to nuke something!" He locked the Silicons in their house's root cellar, grabbed the computer and hastily made a run for it.
As they sat there in the dark root cellar, waiting for the cavalry to arrive, they considered their next move.
"We know the phone number of the computer in Washington, maybe we can call it using another computer?"
"The prototype used encryption to talk to it, I'm certain. That was the professor's thing after all, encryption."
"Are you sure? I mean, he talked big but in the end he just hid things inside a game. The key was just to know the game was there, play it, wait around, and answer the dumb questions."
"That's true, but still… anyway, I have another idea."
The national guard showed up with the cops, and they let the Silicons out. "I think I can stop Peter from trying again," Sarah told the detective.
The Silicons had three phone lines: one for the telephone, one for their father's fax machine and one for the kids bulletin-board system. Sarah connected computers with modems to all three lines, and used them to repeatedly connect to the Washington computer, of which their appeared to be only the one. Peter or not, it wouldn't be a bad thing if it was unavailable for a while.
"Hopefully, this should prevent Peter from connecting." Meanwhile, they needed to track him down, before he decided to lower his aspirations and use his revolver to orchestrate a murder-suicide. The police got out the dogs and began a search of the neighbourhood, but they quickly came upon someone who claimed to have been 'carjacked' by a guy with a sewing machine – what a non-computer savvy person would think the Osborne was.
Sarah was sure Peter would have vacated the immediate area but she wasn't convinced he would travel very far beyond that – he was going to want to make a second attempt at nuking something, and he wasn't going to waste too much time before that happened.
The detective managed to get in touch with the Department of Defence, and they were making arrangements to shut down the "Star Wars" mainframe computer, but due to national security concerns (and the fact it was the 1980s), this was going to take some time. And so it was still imperative that they find Peter.
However, Sarah realised that Peter was the sort of person to appreciate irony, and if he couldn't bring the bomb down on the Silicon household, he might consider the Silicon's computer shop to be the next best thing. She imagined that he might take the Osborne into the store because its modem "wasn't working properly", and get some help "testing" it.
Sarah tried calling the store to warn the staff, but the line was busy – this increased her concern, because while they were "wardialing" Washington to keep its line occupied, it was more than possible that Peter could get lucky and break through. She told the police of her hunch and they raced to the shop.
Sure enough, Sarah's intuition was spot-on, and when the police arrived, Peter was inside. They cut the phone line and ended his bid to bring about a mini-apocalypse, and he took the employees hostage. Sarah's parents arrived just in time to watch a sniper take Peter out, permanently.
And that was how the Silicon children saved the world on Hallowe'en. Or Schenectady, anyway.