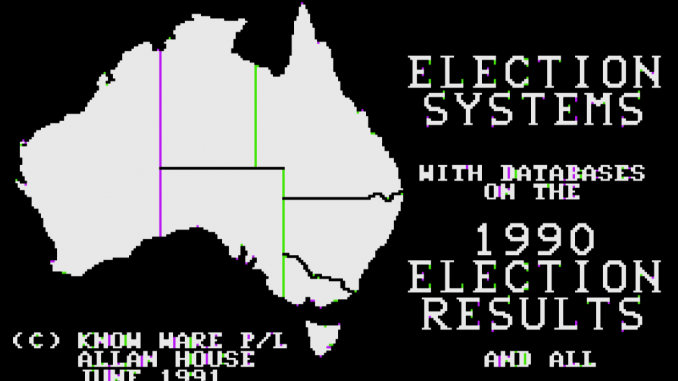 Happy Election Eve! Over the past few years, Australian Apple II aficionado Jeremy Barr-Hyde has managed to diligently bring a number of Australian Apple II software titles back from the dead, including such downunder classics as 'The First Fleet Convict Database', 'Goldfields' and 'Outback Explorer'. Thanks Jeremy!

But now, just in time for this year's Federal Election, he's brought us the Australian Government Database! 

You can learn all about Australia's system of voting, and the election results from 1990. Now, ordinarily you might think this is kind of boring, but it's a little more interesting looking at it back through the lens of the Apple II. It's like a time machine! Well, not really. But it's pixelated. So that's kind of cool.

You can also learn about Australia's Prime Ministers, at least up until the recently passed Bob Hawke, and the Governor Generals as well. 

The Australian Government Database is available in microM8's file catalog, in the /appleii/disk images/australian/ folder, along with the other titles mentioned and many more, again all thanks to the efforts of Jeremy Barr-Hyde. Let's give him another round of applause!

Enjoy your democracy sausage! You can download the microM8 Apple II emulator here.