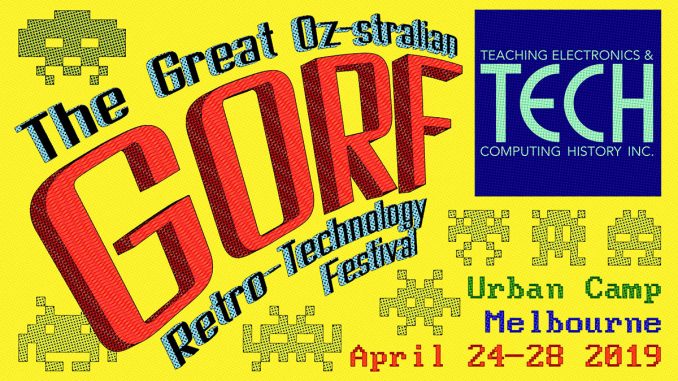 Spend four days enjoying the company of other retro-technology enthusiasts at GORF: the Great Oz Retro-Fest, at Urban Camp in Melbourne, Australia from April 24th-28th 2019.
Modelled after the wildly-successful US KansasFest event, GORF is an 'unconference' that brings together 8 and 16-bit computer enthusiasts, classic console hackers and arcade collectors to celebrate a pivotal era in the development of modern electronics in a communal 'stay and play' environment where attendees sleep over at the venue.
Two keynotes will explore the history of the Australian MicroBee computer (with designer Owen Hill) and the local video-game development scene of the 1980s (with Doctor Melanie Swalwell), followed by presentations given by attendees (hopefully including you!) on a variety of subjects regarding a variety of computing and video-gaming platforms.
There's also an event-long hackathon (coined the GORF-a-thon) where participants will compete to create the most intriguing retro-related project, a game competition night and a documentary screening. Meals are provided, except Saturday night when we'll go out on the town to visit Melbourne's retro-gaming bars.
GORF: it's a summer camp for retro-geeks. Come join us!
For more information and tickets: https://gorf.org.au
Ticket sales close April 1st.
GORF is presented by Teaching Electronics and Computing History Inc., an Australian not-for-profit organisation.