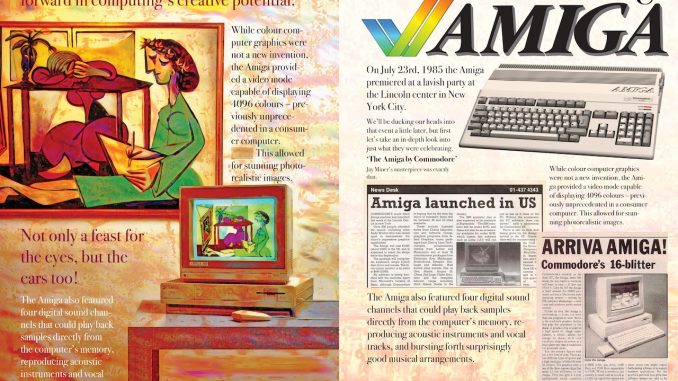 In order to free up some time to organise GORF, the release of issue 5 has been delayed until Q2 2019. In the meanwhile, here's some of what we're working on for the next issue:
ZERO PAGE – Zero plus one equals anything you can imagine: The irony of how the most concrete of mathematical concepts ultimately paved the road to unlimited creative freedom
CONTENTS – An Exhibition of Sight and Sound: Schedule of Spectacles
BACK IN THE DAY – The Fairy Tale of Princess Lorraine
FEATURE – The Amazing Artistic Amiga
DIAL-UP CHAT – DeluxePainters
THE ART SCENE – In the Hands of a Master: Andy Warhol and the Amiga
THE TECH (ART) CLASS – Drawing on the Computer: The Evolution of Digital Graphics Applications
GADGET GRAVEYARD – Light Pens and Plotters: Artwork In, Artwork Out
ANCIENT TONGUES – The Talented Turtle: Being Artistic with LOGO 
NO CARRIER – A Cast of Creative Characters: Make Your Own Text Art
PIXEL PLAYAS – Mario Paint: Painting with a Plumber
THE BUSINESS – Early Graphic Design: Playing Computers for Money
THE PRO SHOP – Get Serious with AutoCAD
HEAVY DUTY – How CAD helped Australia sail away with the America's Cup.
POPPED CULTURE – Discs and Dragons – The Magic of Don Bluth
THE BARD'S INN – The Art of CD-ROM Games
ARCADE RATS – Arcade Machine: Turning the Player into a Creator
ELECTRONIC MUSIC – From the Laboratory to the Arcade: Computer Music
CHIP TO BE SQUARE – Getting to know SID
GEEK UNDERGROUND – The Rise of the Bedroom Composers
MICROM8 UPDATE – Making Music with microTracker
POINT AND CLICK – MIDI Maze: Turning Music into Mayhem
THE BREADBOARD – Build a MIDI interface for the Apple II
LOADING READY RUN – The Yamaha CX5M Music Computer
ELECTRONS IN MOTION – The Yamaha QY-10 Portable Sequencer
THE TOY STORE – Da Da Da – the Casio VL-Tone VL-1
RADIO WAVES – Back to the Beginning: The Age of Electronic Organs
ENTERTAINMENT CENTRE – Ready to Record: Cassette Tapes and the Dawn of the Demo
COLLECTORS' CORNER – Broken Belts; and other Cassette Player Maladies
HAMATEUR HOUR – No Singing Allowed: Why Music is Banned on Amateur Radio
THE ARCHIVIST – Preserving Digital Art – What should we save?
CRYSTAL BALL – Removing the human from the equation: Computer generated art and music
ANDROID DREAMS – A Computer's Guide to Self Expression
…and so much more!
Hope to see you at GORF!